This is my personal review of Notion3 software. I will divide the review according to the following criteria:
a.) Ease of installation
b.) Sound library
c.) Music creation process user interface
d.) Audio mixing features
e.) Print out
f.) Export quality
g.) Recommended usage
Ease of installation
The installation process starts with double clicking the exe file (also known as the installer). The rest of the installation process is easy to follow. After installing Notion, you need to check if you are using the correct audio samples folder for your entire musical instruments library sound.
You need to go to File – Preferences – Audio, and the samples folder path will be shown. For example: D:Program FilesNOTION MusicNOTION 3SoundsBundled. The "Bundled" folder should contain all instruments library sound that you can use for your compositions and musical interpretations. For example, this is the content of my "Bundled" folder with different musical instruments category in the library:
So if I click on the "Strings" folder, it should contain the string instruments that you can use for your classical compositions. For example, violin/cello/viola/etc; see screenshot below:
I heard some installation issues particularly from some friends who are music majors. They encounter some issues integrating the bundled/samples of instruments to Notion3. Probably this will be fixed or well documented in the latest build.
Installation rating: 4/5
Sound library
One advantage is that Notion3 set of instruments included in the library is thorough. It seems that Notion3 works best for both classical music composers and contemporary musicians/songwriters in ballad/pop genre. The following are the complete set of samples they are offering: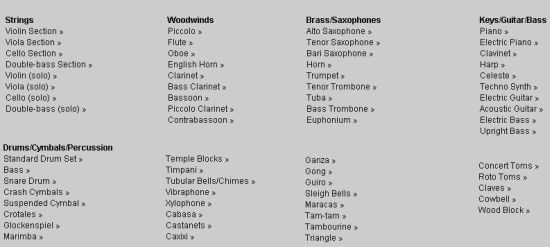 You can download the entire sound library here (more than 10GB).
Sound library rating: 5/5
User interface assessment for writing music
This is the heart of Notion3. To write music using Notion3, you first need to launch the program. You will be presented with a lot of options on how to start writing music. This can be from a new/blank music score, full or chamber orchestra, jazz combo, rock band, etc. See screenshot below:
Supposing I'm a classical musician and would like to start everything from scratch; I would select "New Score". I'm then presented with the following options below:
When I see "Exit score setup", this implies that I'm still setting up my score. Well it's not confusing at all since a music score should consist of several instruments and I need to select one to start with. Supposing I will select "Strings" — > "Violin 1 (section)"; for the first time, I would see the musical staff such as shown below:
Supposing I'm now ready to write music, I then click "Exit score setup". This would take me to a completely blank musical score ready to be inputted with notes. Before writing the composition, I would start by writing my name as composer as well as the title and date of the piece. I try double clicking the composer and title field and it accepts text input. So far, so good. Finally, I will enter the musical notes; my instinct (without reading any manuals) is to mouse over the toolbar to select the musical notes.
I then select a quarter notes and then drag it to the musical staff. Alas! The notes are then embedded to the staff. To play them, simply rewind it first (to move to the first measure) and then hit play button.
To select the final notes or pitch, I hold the notes and drag it from staff lines; very simple to use. To remove the notes or cancel it, I simply press ESC and then clear the notes. Good job for Notion 3 developers for this simple user interface.
I manage to compose up to one measure with the score title and my composer name such as shown below: