Contributors
Emerson Maningo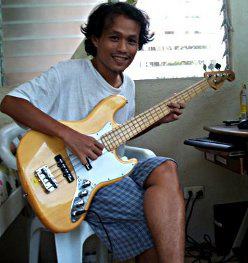 Hi, I'm Emerson Maningo, a Systems Developer/programmer with interest in music recording as a hobby. I spend some time creating and recording music when I'm not busy. I earned my college degree in Electronics and Communications Engineering in University of San Jose Recoletos, Cebu Philippines in 2002. I have experience working in both professional and home recording studios. Currently my home recording gears/equipment I used are the following:
a.) Reaper Digital Audio workstation/Adobe Audition 1.5 in Windows XP
b.) Focusrite Saffire Pro 40 Firewire Audio Interface
c.) Laney amplifiers
d.) Rode NT1-A vocal mic
e.) Shure SM58
f.) M-audio BX5a Reference monitor
g.) Sony and Focusrite plugins Suite
h.) Matrix SR-1060 Digital Chromatic Guitar and Bass Tuner
If you have Google +, Twitter or Facebook accounts, I would appreciate if you will share my blog to your music-savvy friends. I am not perfect anyway and still on the process of continually learning the art of music publishing and music production. Feel free to send me a message if you find some serious errors in any of my blog posts. I would give it immediate attention and give you credit for correcting it.
Thank you for the time in visiting this recording blog!
Popular Tutorials