Hi, I'm Emerson Maningo, a PHP web developer and programmer with interest in music recording as a hobby. I spend some time creating and recording music when I'm not busy. I earned my college degree in Electronics and Communications Engineering in University of San Jose Recoletos, Cebu Philippines in 2002. I have experience working in both professional and home recording studios. Currently my home recording gears/equipment I used are the following:
a.) Reaper Digital Audio workstation/Adobe Audition 1.5 in Windows XP
b.) Focusrite Saffire Pro 40 Firewire Audio Interface
c.) Laney amplifiers
d.) Rode NT1-A vocal mic
e.) Shure SM58
f.) M-audio BX5a Reference monitor
g.) Sony and Focusrite plugins Suite
h.) Matrix SR-1060 Digital Chromatic Guitar and Bass Tuner
I wrote and produced several songs some of which were licensed to film and TV industry.I dedicate this blog to first time learners in audio recording, particularly those doing their own recording at home. The information you get from this website is free and subject to my terms and disclaimer.
Feel free to request some tutorial. It should belong to the following categories:
1.) Music production
2.) Audio recording
3.) Audio mixing
4.) Audio mastering
5.) REAPER DAW related
6.) Audacity related/Linux audio
7.) Music business
8.) Sound engineering concepts
You can contact me here. This is how I seriously look when I am at work in the studio:


I also loved doing sports such as running and riding my mountain bike. This is me after running the 2012 Cebu City Marathon 42K category. This would help me stay fit and help in reducing my asthma which I always suffer from childhood. But I am careful not to over-exert in situations when I find myself difficult to breathe.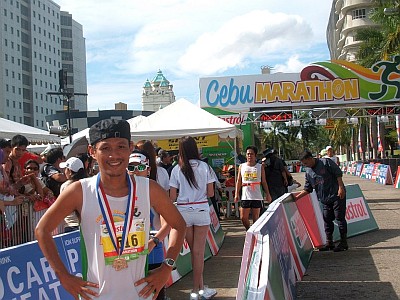 I also like tough sports like a duathlon and this is me riding my bike in the 2011 Cebu/SRP duathlon: